10150 Greenville Hwy, Wellford, SC 29385
N,N'-Bis-[3-(dimethylamino)propyl]urea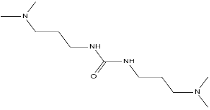 Recommended Storage Temperatures
N,N'-Bis-[3-(dimethylamino)propyl]urea
StarChem™ F-2951 should be stored in closed, factory-sealed containers at temperatures between 10°C (50°F) and 49°C (120°F). Product stored for a prolonged period of time should be kept under a nitrogen atmosphere. Product should be used within three years of date of manufacture. Please refer to the Material Safety Data Sheet (MSDS) for this product for instructions on safe and proper handling and disposal.
460 (484) lb HMO Drums ; 2300 (2431) lb Totes
12 months from the date of manufacture
Listed International Inventories
To the best or our knowledge this product contain no substances listed on California Prop 65.
Catalyst used in the production of urethanes
Initiator / accelerator and curing agent in epoxy resins (formaldehyde free)
Catalyst in the production of glycolic acid lactides