StarChem2543 is a concentrated water-based silane/siloxane emulsion formulated for waterproofing various substrates. Silanes and siloxanes are capable of penetrating and forming a protective, repellent layer several millimeters deep within a substrate, with little effect on the water vapor transmission rate through pores. Because the treatment is deep within the substrate, surface abrasion has little or no effect on performance. Other repellency treatments can block or seal pores, resulting in less vapor transmission and loss of performance after surface abrasion.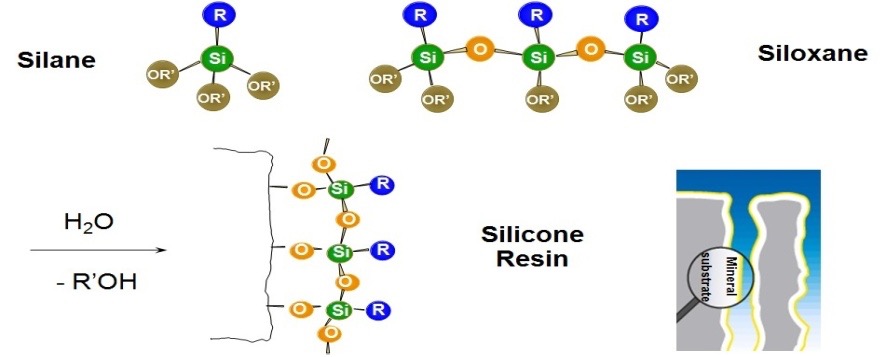 Typical Physical Properties
Improved long-term protection
Reduced corrosion (chlorine ingression)
Reduced maintenance time and costs
Reduced efflorescence
Easier cleaning
Reduced spalling
Improved strength of fragile masonry
Repellency to water and water-soluble materials
Permeability to water vapor
Durability: chemically bonded with the substrate
UV Stable
Typically applied at 5% to 20% active material on neutral to alkaline substrates.
Structural concrete
Pavers and flagstones
Sandstone
Limestone and marble
Brick and tile
Gypsum and plaster
StarChem 2543 can be readily mixed with water prior to application. Recommended dilution is 1:5; StarChem 2543 to water. (dilution factors of 1:10 to 1:3 can be used)
StarChem 2543 has a shelf life of at least twelve months from the date of delivery; if stored in original unopened containers at temperatures not exceeding 30°C (86°F). Continued storage beyond the designated shelf life does not necessarily mean the material cannot be used. However, renewed testing of the most important properties is imperative.