StarSurf DDBSA 40S is an anionic detergent that exhibits excellent emulsification, wetting, and foaming properties. It is used in a wide variety of industrial markets; Oil & Gas, HI&I, construction, and textiles.
Foamer or foam booster
Heavy-duty cleaner
Dedusting additive
Primary or secondary emulsifier
Construction: Concrete admixtures, foamed concrete
HI&I: Surface cleaners, all-purpose cleaners, liquid detergents, industrial cleaners
Oil Field: Drilling additives, foam booster, and emulsifier
Agriculture: Adjuvant and foam booster
Textiles: Fabric washing, wet processing, and scouring
Sodium dodecylbenzene sulfonate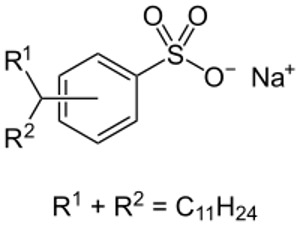 Clear to hazy amber liquid
450 lb (200 KG) drums / 2250 lb (1000 KG) tote
International Inventories
USA (TSCA), Canada (DSL), Europe (EINICS), Korea (ESL), Japan (ENCS), Australia (AICS), Philippines (PICCS), China (IECSC), and New Zealand (NZloC)
StarSurf™ DDBSA 40 is biodegradable.
StarSurf™ DDBSA 40 is considered non-toxic.
StarSurf™ DDBSA 40S has a shelf life of at least twelve months from the date of delivery; if stored in original, unopened containers at temperatures not exceeding 40°C. Continued storage beyond the designated shelf life does not necessarily mean the material cannot be used. However, renewed testing of the most important properties is imperative.