StarSurf™ H-CAPB is an amphoteric surfactant derived from coconut oil, and is used in a variety of applications.
Antistatic agent
Foamer or foam booster
Viscosity builder
Primary or secondary emulsifier
Compatible with cationic, anionic, and nonionic surfactants
Personal Care: Shampoos, conditioners, shower gels, baby products, and bubble baths
HI&I: Hard surface cleaners, liquid detergents
Oil Field: Foamer and emulsifier for drilling, cementing, completion, stimulation, fracturing, and production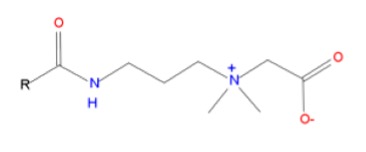 440 lb (200 KG) drums / 2200 lb (1000 KG) tote
International Inventories
USA (TSCA), Canada (DSL), Europe (EINICS), Korea (ESL), Japan (ENCS), Australia (AICS), Philippines (PICCS), China (IECSC), and New Zealand (NZloC)
StarSurf™ H-CAPB is biodegradable.
StarSurf™ H-CAPB is considered non-toxic.
StarSurf™ H-CAPB has a shelf life of at least twelve months from the date of delivery; if stored in original, unopened containers at temperatures not exceeding 40°C. Continued storage beyond the designated shelf life does not necessarily mean the material cannot be used. However, renewed testing of the most important properties is imperative.